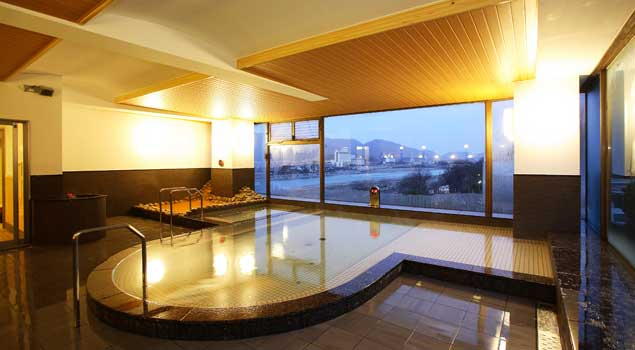 Popular hot stone bed spa! Group reservations available now.
Enjoy with your friends, with your family

¥6000(including tax) per hour

Maximum of 9 people
※Only hot stone spa ¥9000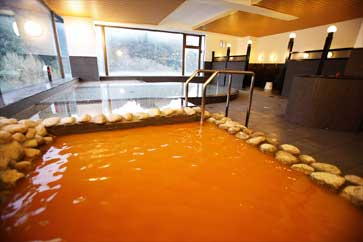 Nagawagara hot spring is a simple thermal
 mineral spring (neutral hypotonic and cold
 mineral spring) which contains lots of iron and
 radon. Effective for rheumatism, nerve pain, skin
 disorders and gynecological disorders.
 Makes your skin silky smooth
【Mineral spring】
Simple thermal mineral spring
(neutral hypotonic and cold mineral spring)

【Health benefits】
Neuralgia, rheumatism, muscle pain, joint pain, stiff neck, motor paralysis, stiff joints, contusions, sprains, chronic digestive disorders, hemorrhoids, convalescent support, exhaustion, health improvement, menstruation disorders.



The highest Nagaragawa open-air hot spring bath which is located on the top floor.

The best view of Gifu castle, Mt Kinka and the Nagara River is all yours.

Bathe in the moonlight and feel the fresh night breeze.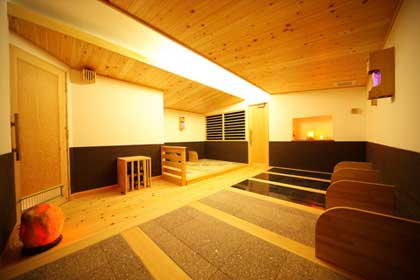 Women's only hot stone bed spa
 is available now
 Free robe, towel and mineral water
 Good way to lose weight!
 Detox your body and increase your
 metabolism
 We have three kinds of hot stone beds
 each with different benefits
 ■Health benefits
 autonomic imbalance, allergy,
 metabolism, anemia, menopause,
 rheumatism, muscle pain, joint pain,
 stiff neck, stiff joints, skin disorders,
 stress, diet, atopic skin, insomnia, lack
 of appetite, constipation, neuralgia,
 numbness, edema
Hot stone bed spa is a type of bathing without water. You lie on the hot stone bed and your body gradually heats up

Compared to baths and saunas, your body heats your core up faster and to the core

When your body warms up evenly, your autonomic nerve and immune system are activated and improves your metabolism which leads you to sweat a lot.
Black germanium

Cleanse your body


Harmful metals such as mercury, lead and cadmium stay in our body
due to our lifestyle like our diet and lack of exercise.
These metals combine with fat but are released with wastes and
toxins in your sweat.




Detox and purify your body!


Hot stone bed spa is effective for activation of cells and
preventing life style disease and cancer and works for atopic skin.
Bakuhanseki

Combination of far-infrared heat and negative ions


Infrared heaters emit infrared light experienced as radiant heat
which is absorbed by the surface of the skin causing you to
sweat and increases blood circulation.




The better the circulation, the better the metabolism.


Good for your skin, good for maintaining your health,
detoxification of your body and more.



Yakuhougyokuseki

Miracle power of natural stone


Throughout history, humans experienced health effects
by lying on hot stones


Stone wave motion awakens human's innner power.


This historical stone is believed to bring youth and longevity.
※Please take a shower before hot stone bed spa for sanitarian reasons and for better improvement of
  circulation


Hot stone bed spa reservation available now! Mixed genders is possible.
¥6000(including tax) per hour *maximum of 9 people